I had never heard of barefoot sandals before until my pal Vincent posted a photo on Facebook. As I am obsessing about feet and shoes and all things pedial these days due to Bound Feet Blues, I set off into the web universe to find out more.
There are some amazing and gorgeous foot adornments  that can be found – here is an example. Isn't it just gorgeous?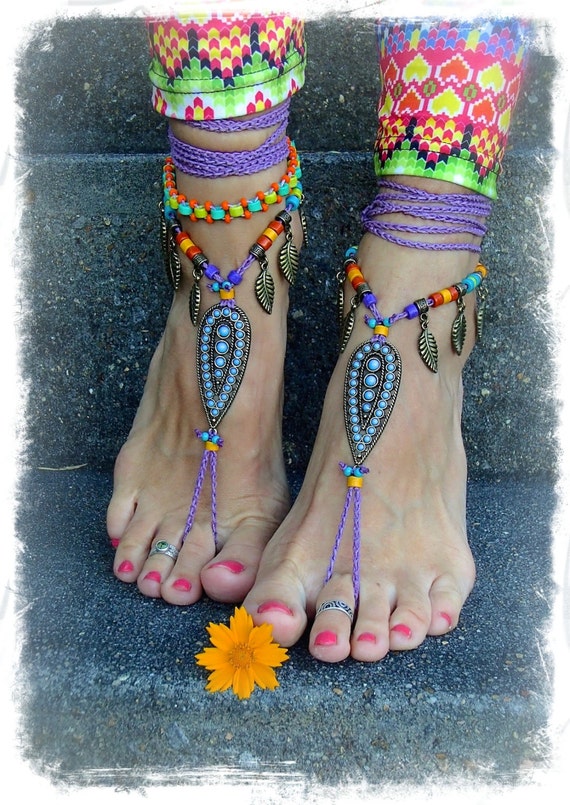 With this current rare heatwave in the UK, this summer might be the summer of the barefoot sandal…! What do you think?
Having said that, I wouldn't want to try them out in London or any urban environment where the pavements and roads are full of hazards for our poor feet.  They would be better delighted in at the beach or in a garden or on other non-grungy or icky ground…
This specific pair of barefoot sandals comes from Etsy, the craft website, sold by GPyoga
~~
Photo: from the Etsy website of GPyoga – with thanks
~~
Yang-May Ooi is an award-winning TEDx speaker, bestselling author, story performer and coach. Her work uses the power of personal narrative to help creatives and others grow into confident, collaborative leaders. She is currently rehearsing a one woman story performance, Bound Feet Blues, which will be showcased in London's West End in Oct 2014.